Board
The Board of EQAA is the main decision making body of the agency. It takes the decisions about accreditations in order to ensure coherence and consistency of decisions. The members of the Board are highly acclaimed international experts in higher education and quality assurance.

Members:
Fernando Galán Palomares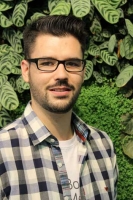 Fernando Galán Palomares is the former President of the European Students' Union. He also served as Vice-Chairperson of the Executive Board of the European Quality Assurance Register for Higher Education (EQAR). He is a medical student at the University of Cantabria and he also studied for one year at the Università Degli Studi di Bari "Aldo Moro", as part of the ERASMUS student exchange programme. From the beginning of his university education, he has been involved in various positions as a student representative.

Fernando Galán Palomares has been a student representative at his university for the National Council of Medical Students and at the Spanish Students' Union: the Coordinator of Students' Representatives of Public Universities. He has been a member of the Faculty of Medicine' Board, the Council of the Medical and Surgical Sciences Department and the University Senate, along with other bodies within his university.

Fernando Galán Palomares' work as a student representative has been mostly focused on academic affairs issues, such as the student-centred approach, quality assurance, information tools and Massive Open Online Courses (MOOCs). Moreover, he has participated in several EU projects, indicatives and publications on related topics. He worked on drafting the Internal Quality Assurance System of his university; he has also collaborated with the Spanish and several European quality assurance agencies and universities.
---
Back