Board
The Board of EQAA is the main decision making body of the agency. It takes the decisions about accreditations in order to ensure coherence and consistency of decisions. The members of the Board are highly acclaimed international experts in higher education and quality assurance.

Members:
Pavel Zgaga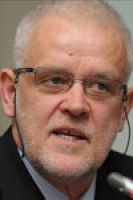 Pavel Zgaga is professor of Philosophy of Education and Education Policy at the University of Ljubljana, Slovenia, where he started his academic career in 1978. He holds a doctorate in Philosophy from Ljubljana University (1989) and an honorary doctorate from Universitet Umeå, Sweden (2007).

During the 1990s, Pavel Zgaga was State Secretary for Higher Education and Minister of Education and Sport. After his return to academe, he served as a dean of Education Faculty. In 2001 he co-founded the Centre for Educational Policy Studies (CEPS) at the University of Ljubljana and has been its director until today.

He has held several research grants and directed national and international projects on education policy. These projects have been mainly concerned with development of higher education in the contemporary European context as well as with teacher education as a specific area of higher education. In these areas, he has been also co-operating with relevant agencies of the European Commission and with several organisations, e.g. Council of Europe, UNESCO, OECD, World Bank, etc; he has also been consultant and invited speaker in a number of countries. He was engaged in the early years of the Bologna Process, serving as general rapporteur (2001-2003), as a member of the Board of the Bologna Follow-up Group (2004- 2005) and as the rapporteur of the BFUG Working Group on External Dimension of the Bologna Process (2006-2007).
---
Back